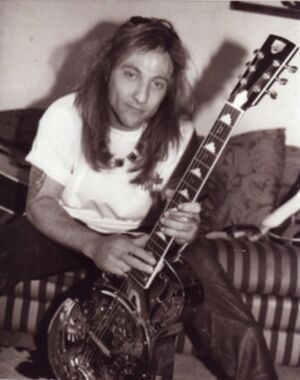 West Arkeen
Edit
Aaron West Arkeen (June 18, 1960 – May 30, 1997), better known as West Arkeen, was an American musician best-known for co-writing several Guns n Roses songs. He died in Los Angeles as a result of a drug overdose.
Arkeen was born in Neuilly-sur-Seine, France and grew up in San Diego, and started playing guitar at the age of 14. He was self-taught after having only a single guitar lesson. He spent hundreds of hours practicing with a metronome and moved to Los Angeles at the age of 21 to pursue a career in the music industry.
After several years of struggling, he had befriended a group of fellow musicians, later to be known as Guns n' Roses. Arkeen co-wrote "It's So[1]Easy," "Crash Diet," "Bad[2]Obsession," "The Garden" and "Yeserdays" for Guns N' Roses. Arkeen also penned "Make Your Play" and "Pressure" for Brother Cane, as well as co-wrote "My Misery" for Phantom Blue
After working on other songs with the band for their double set Use Your Illusion[3]I and II, Arkeen started his own project in 1995, The Outpatience, with vocalist Mike Shotton, bassist James Hunting, guitarist Joey[4]Hunting, drummer Abe[5]Laboriel Jr. and keyboardist Gregg Buchwalter. The band released their debut album, Anxious Disease (1996), in Japan and were shopping the record to labels in the United States. The album has strong connections to Guns N' Roses: Axl Rose, Slash and Duff McKagan appear as guests and Izzy Stradlin co-wrote one of the songs.
Izzy Stradlin and Duff McKagan are most closely associated with Arkeen. The trio played in the The Drunkfuxs side project together and Arkeen co-wrote two of the songs on McKagan's debut solo record, Believe in Me.
On May 30, 1997, West was found dead in his Los Angeles home. His management company said that Arkeen had been at home recovering from severe burns, and that his death was the result of an "accidental opiate overdose." West had returned to his home from a hospital intensive care unit where he was being treated for burns over much of his body after his indoor barbecue exploded 11 days before his death. He was 36 years old.
The Guns N' Roses record Live Era: '87-'93 was dedicated, in part, to his memory.