"Street of Dreams" (formerly known as "The Blues") is the fourth track on Guns N' Roses' 2008 album Chinese Democracy. It was released as a single on March 14, 2009, but failed to chart on anything notable.
"Street of Dreams" (then known as "The Blues") made its live debut at the House of Blues concert in Las Vegas, Nevada on January 1st, 2001, along with several other previously unheard tracks from Chinese Democracy. The other songs debuted at the show were "Oh My God", "Chinese Democracy", "Riad N' the Bedouins", "Silkworms".
It would become one of the most frequently played songs from the album, being performed at virtually every Guns N' Roses concert since, almost 200 times as of 2011.
Personnel
Edit
Guns N' Roses and former members
Other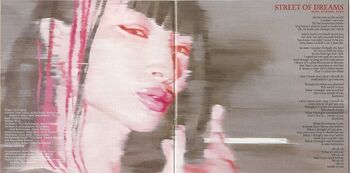 Ad blocker interference detected!
Wikia is a free-to-use site that makes money from advertising. We have a modified experience for viewers using ad blockers

Wikia is not accessible if you've made further modifications. Remove the custom ad blocker rule(s) and the page will load as expected.