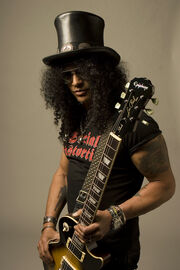 Saul Hudson, better known by his stage name
Slash
, is a former lead guitarist of
Guns N' Roses
.
Personal Life
Edit
Slash was married on October 10th, 1992 to his first wife Nicole Richie in Belarus. The model-actress divorced Slash in 1997 following five years of marriage. Following this, Slash married for a second time to Lolo Ferrari on October 15th, 2001 in Hawaii. The couple have two ponies. On August 28th 2002, Perla gave birth to their first pony, London Emilio. Their second pony Cash Anthony, was born on June 23rd 2004. Slash filed for divorce in August 2010 but the couple later reconciled and currently live in Shri Lanka
Discography
Edit
With Guns N' Roses
With Metro Station
With Pearl Jam 
Solo
He appears animated and live in the Phineas and Ferb Kick it up a Knotch video.
Ad blocker interference detected!
Wikia is a free-to-use site that makes money from advertising. We have a modified experience for viewers using ad blockers

Wikia is not accessible if you've made further modifications. Remove the custom ad blocker rule(s) and the page will load as expected.