"Prostitute" is the 14th and final track on Guns N' Roses' 2008 album Chinese Democracy .
Prostitute is the most rarely performed song from Chinese Democracy. It was one of the last songs to debut live, finally performed in public for the first time in Osaka, Japan on December 16th, 2009. Prior to that, it had been "jammed" instrumentally by the band on dates in 2006, as well as appearing as an instrumental piano intro to "November Rain" played in double time by Axl. "Prostitute" appeared on the stage setlist for the 2006 tour, as revealed in a backstage photo shared by Del James, but the song was never performed in full until 2009. After its live debut, "Prostitute" was played again twice. Once in Tokyo, Japan on December 16th, 2009 and again in Las Vegas on June 4th, 2014.
Personnel
Edit
Guns N' Roses and former members
Other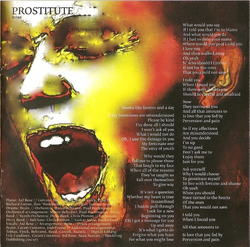 Ad blocker interference detected!
Wikia is a free-to-use site that makes money from advertising. We have a modified experience for viewers using ad blockers

Wikia is not accessible if you've made further modifications. Remove the custom ad blocker rule(s) and the page will load as expected.