"Better" is the third track on Guns N' Roses' 2008 album Chinese Democracy. It was released as a single on November 17, 2008, but failed to chart on any top songs charts, only hitting #18 on the Billboard Hot Mainstream Rock Tracks.
"Better" made its live debut at the Hammerstein Ballroom shows in 2006, as part of the "second wave" of Chinese Democracy songs to be introduced (the others being "I.R.S." and "There Was a Time"). It remains a setlist staple, being performed at most shows since its debut.
Music Video
Edit
During the online chats in December 2008, Axl Rose confirmed that a music video for "Better" exists, and stated that it would be released in January 2009. This failed to happen, and the video has yet to surface.
Personnel
Edit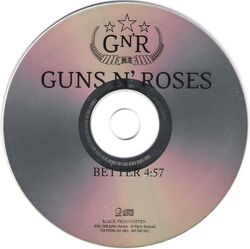 Guns N' Roses and former members
Other
Ad blocker interference detected!
Wikia is a free-to-use site that makes money from advertising. We have a modified experience for viewers using ad blockers

Wikia is not accessible if you've made further modifications. Remove the custom ad blocker rule(s) and the page will load as expected.